Surf Lessons in Puerto Rico
Spectrum Surf School
The reviews below are taken directly from our Trip Advisor Page.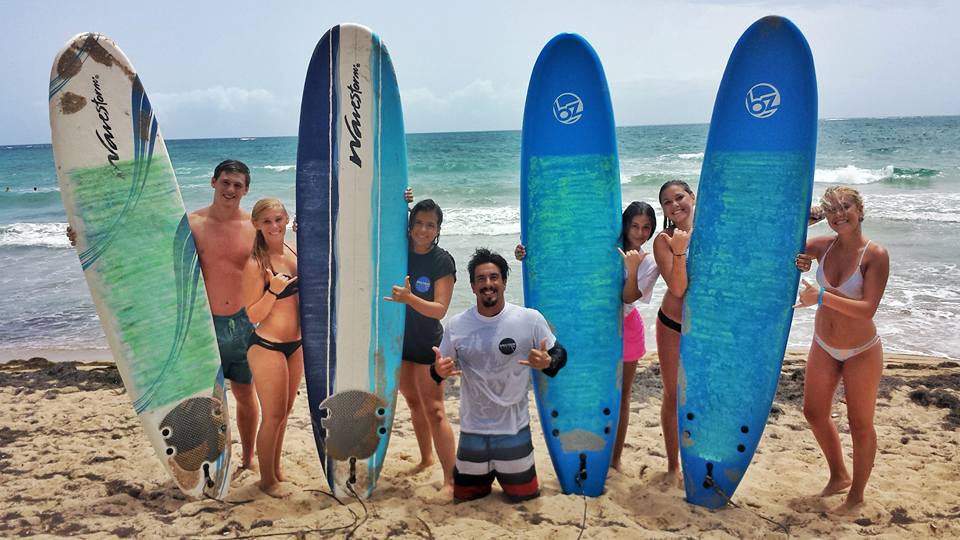 Please visit the Spectrum Surf School Trip Advisor page to see additional and updated reviews and ratings.
See additional reviews on our Google Page.
I had a great lesson with Spectrum Surf during a brief stay in San Juan. The instructor, Alejandro, picked me up and took me to a spot outside the city that was perfect for my level of experience. He made me feel comfortable in the lineup and his enthusiasm for the sport is contagious. I had an awesome time and am still trying to wipe the smile of catching some great waves off my face.
I met up with Alejandro who was my guide. He was so energetic and enthusiastic! We had the best time! Traveling as a single female, he made me feel right at ease and very safe right away. He took me to the most incredibly bueatiful spots on the island with some killer breaks we also had time for lunch and exploring. One of the most memorable experiences I've had traveling. I would definitely do it again 😀
Fort Lauderdale, Florida
Alejandro from Spectrum Surf School was an incredible surf instructor who significantly exceeded my expectations!

I went on a Caribbean Cruise which stopped in San Juan, Puerto Rico for a day. I wanted to go surfing, but the cruise line would not allow me to bring my surfboard, and I did not know the surf spots, so I searched Trip Advisor for a surf instructor in San Juan who could pick me up from the pier, drive me to a surf spot, loan me a board, and guide me through the surf spot and provide a lesson (I'm a beginner-to-intermediate surfer who has been surfing for 1.5 years). I contacted 4 surf schools in San Juan that I found through Trip Advisor. Alejandro from Spectrum Surf School was the only one who contacted me promptly (with a phone call) so I booked my surf excursion with him.

He spoke excellent English, was very knowledgeable over the phone, and made precise plans to pick me up from the pier. When I arrived in port in San Jan (where I was finally able to use my mobile phone), I texted Alejandro, who told me he would meet me in 5 minutes, which he did.

We then drove about 25 minutes to the surf spot, Piñones in a town called Loiza. He pointed out landmarks along the way and gave me some history about Puerto Rico, which was great since I had never been there.

When we arrived at the surf spot, he saw a man he knew who was the most legendary long-boarder on the island. He introduced me to him, and the man was super cool and friendly. I thought that was awesome! Alejandro was a well-known & well-liked local and it showed.

When we got to the surf break, Alejandro explained the nuances of surfing this particular reef break. I was a little nervous because I had never surfed a reef break before. But, he made it clear that my safety was paramount, and explained everything clearly. He pointed out landmarks to help me keep my place in the lineup and even made a landmark on the beach with a big limb that washed ashore to mark my paddle-in point.

He brought 2 boards with him: A 6'6 epoxy funboard and a 8'0 soft top. I chose the 6'6 funboard, and he graciously rode the 8'0 softy. It took me almost 2 hours in the lineup to feel comfortable, riding a board 6″ shorter than my board, over a reef break, and in a place where I've never before surfed. But Alejandro was so patient and nice, explaining to me not to rush and to get comfortable before I charge a wave. He even told the other surfers in the lineup that if I started paddling for a wave, to let me have it. They all knew him, and they were respectful and nice to both of us. A pro surfer was even in the lineup with us, someone who's been on the front cover of the surf magazines. That was cool.

After I caught my first wave and rode it backside for a little while, Alejandro hooted in excitement for me. It was awesome! He then pointed out a couple adjustments I could make in my paddle which made a world of difference, because I caught a few more waves after that with more ease. Alejandro was cheering me on, and it felt like I had someone on my team. It was so great! And those pointers in my paddle really helped me progress in my surfing.

Afterward, Alejandro offered to take me to a local place for a beer and some of the delicious native Puerto Rican food, but unfortunately I had to get back to the port because my ship was soon to leave. Otherwise, I would have loved to have a beer and some awesome Puerto Rican food with him!

On the way to the ship, Alejandro explained that in addition to surf lessons, he also gives stand-up paddle board lessons, tours of Puerto Rico, and my heart sank when he said he started a program called "Sunday Waves" which provides free surfing lessons to kids with Autism all over Puerto Rico.

I gave Alejandro a generous tip, something that he absolutely deserved.

I highly recommend Spectrum Surf School to anyone visiting or living in Puerto Rico who wants to learn how to surf, grow as a surfer, wants to see the island and learn more about its history/culture, or wants to stand-up paddle board. Alejandro was kind, patient, knowledgeable, encouraging, fun, professional, reliable, and a great guy!

After I returned to Florida, I texted Alejandro and asked him the dimensions and name of his 6'6 epoxy surf board that I rode, because I liked it so much that I plan to get the same one. He texted me pics of the board and its measurements, and a few kind words of encouragement.

I hope to return to Puerto Rico (I live in Florida) again and spend more time there. And I will definitely do more lessons with Alejandro when I visit. He's the best!!! 🙂

If you're visiting San Juan, and want a surf lesson, stand-up paddle board lesson, or just a cultural/historical tour of the island, go with Spectrum Surf School. You will be glad you did.